by Connie Cortright
Last week in the article about "Alphabet Soup", the WPA was introduced as one of the many federal programs developed during the Depression to give jobs to the unemployed. This Works Progress Administration granted money to local governments to do improvement in communities.
One of these projects is mentioned in my second novel "Lead Me Home", taking place in Dubuque, Iowa. The city council hired Alfred Caldwell in 1934 to head up the project using $200,000 from the government. The plan was to construct stone shelters and gardens in Eagle Point Park, which sits on a bluff overlooking the Mississippi River in Dubuque.
Caldwell hired 400 workers to help with the construction of these buildings and walkways. According to my upcoming novel, one of these was Harry the brother of my hero. He left the farm work to his father and brothers and went to town to work on this government job. The family needed to have some cash income to purchase necessary items during the Depression. At that time the farm allowed people to survive, but didn't bring in much extra funds. "Harry" was one of 20 million people hired with federal dollars to do city or county projects across the country.
Since Caldwell was an admirer of Frank Lloyd Wright, he designed the park in the same Prairie Architecture Style that Wright used. The stone shelters and gardens are very unique for parks, making Eagle Point Park one the most beautiful in the Midwest.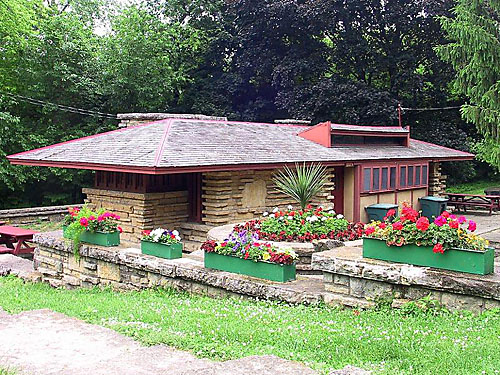 Caldwell designed this building to be used as the office headquarters of the park. Wright's influence can be seen in the horizontal features of these buildings, using natural materials and blending them into the surrounding landscape as much as possible.
My husband and I visited Dubuque years ago, before I decided to use this location for my second novel. However, after finding out it was part of the WPA program and built in the 30s, I knew that it would show up as part of my story in "Lead Me Home".
In 2004, the park shelters built in 1937 by Caldwell were "recognized by the American Institute of Architects as among the most influential structures in Iowa from the decade."
We really enjoyed our visit to this park and encourage anyone visiting Dubuque to stop by and see this architecture.